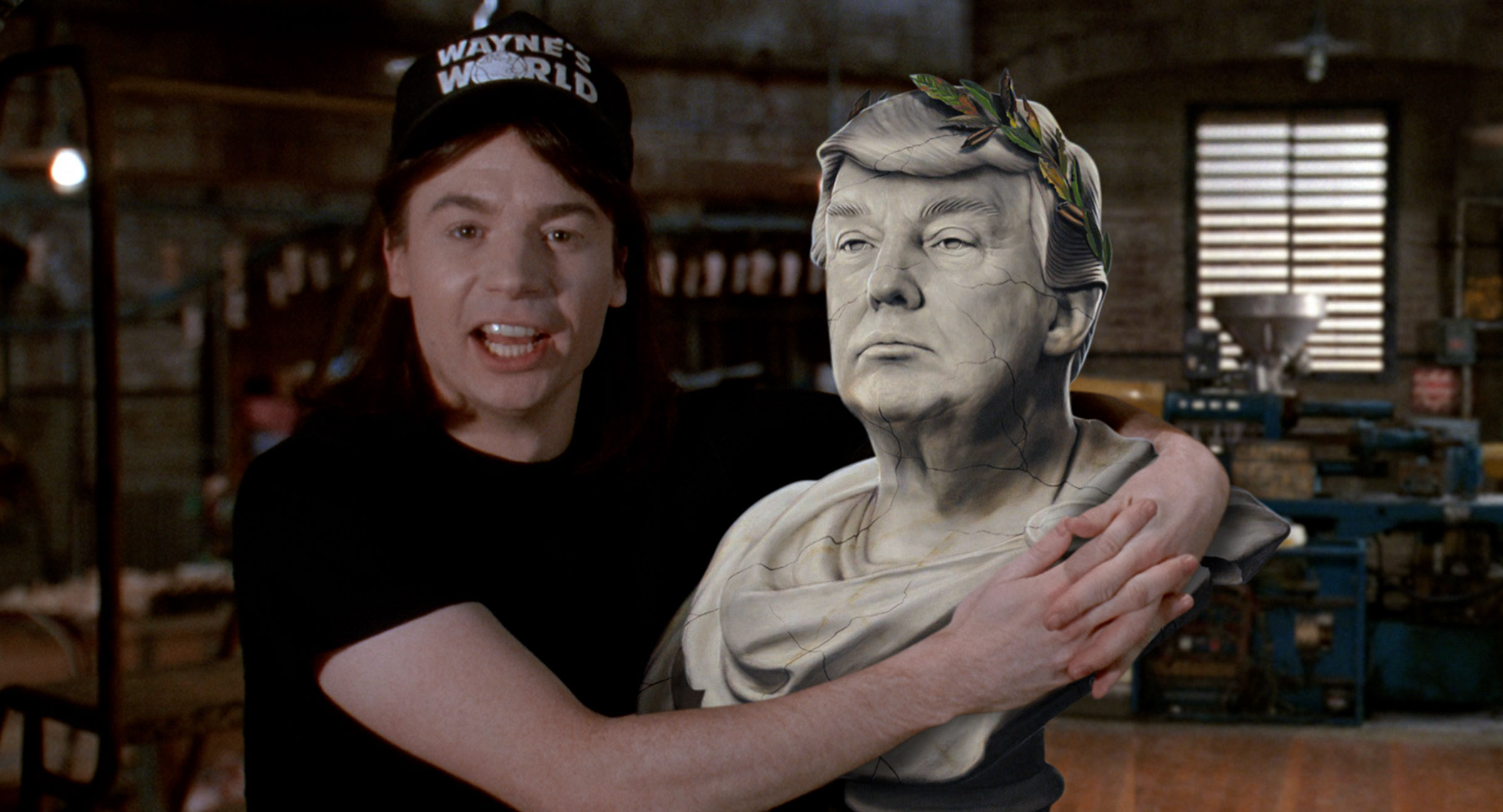 SYNOPSIS



Comprised entirely of hundreds of film samples, Hello Dankness is a political fable that bears witness to the psychotropic spectacle of American politics from 2016 to 2021, and the mythologies and lore that took root around it. Taking form as a suburban stoner musical, the film follows a neighborhood through these years as consensus reality disintegrates into conspiracy and other contagions. What unfolds is a rogue retelling of history in which hotdogs debate the culture wars, trashcans preach QAnon, zombies rally for revolution, and real events are refashioned as Broadway bangers from Cats, Les Miserables, Annie, and The Phantom of the Opera. There are songs and dancing, moments of menace and melancholy, shitposting and deep sincerity. Begun in 2019 and labored on throughout the Covid-19 pandemic, Hello Dankness is a record of the time, written from the time.

The cast of characters include Tom Hanks, Annette Bening, Bruce Dern, Ice Cube, Wayne and Garth, Maya and Ana, Rue and Jules, Seth Rogan and Reyn Doi. American politicians play themselves, with Jesse Eisenberg in the role of Mark Zuckerberg, and The Phantom of the Opera as Vladimir Putin.





SYNOPSIS LONG



Hello Dankness opens in a suburban neighborhood in early 2016, in the lead up to the November presidential election. Here, we meet Tom Hanks (from The Burbs) whose enthusiasm for Bernie Sanders is a thorn in the side of neighbor Annette Bening (American Beauty), an ardent Hillary Clinton supporter. A few houses down, Bruce Dern (The Burbs) plays the role of the Trad Republican, a camo-wearing, flag-raising conservative who is being riled by his neighbor Ice Cube (Next Friday), who encourages his Chihauhua to poop on Dern's lawn. The only Trump supporter on the block is a mysterious loner whose ramshackle house seethes with gothic foreboding. These are the political dynamics of the before-times of the American mythos, when political differences took the form of competing lawn signs and warring words over picket fences. But perhaps the real villain of this narrative resides elsewhere. In a garage at the end of the street, Mark Zuckerberg (played by Jesse Eisenberg) sits at his computer in a hoodie, altering the course of history one friend at a time.

Hello Dankness follows this group of neighbors through the years 2016 to 2021, as their shared reality disintegrates into conspiracies and other contagions. Politics in America have alway been divisive, but what emerges after 2016 is not just discordance but dankness. It's a time of presidents with pee-pee tapes, baby-eating Democrats, child-trafficking in Wayfair furniture, and Corona virus conspiracies implicating Bill Gates, China and 5G towers. Instead of trying to smoke out the facts from the fake-news, Hello Dankness leans into these mythologies, attempting to make visible what they may reveal and obscure about the deep cultural fissures and devastating material conditions that characterize this moment. As the 2020 election heads towards resolution in Act 6, some will rejoice and others will revolt, and Mark Zuckerberg will remain smarmy and indignant while a zombie bleeds out at his feet.